Flower auctions used to take place in local cafés, but those days have long since passed. 90% of the Dutch flower trade takes place at Royal FloraHolland, the largest flower auction in the world. The total area covers 775.000 square meters
The flowers do not just come from the Netherlands, but from 50 other countries as well. Germany, the United Kingdom, France, Italy and Belgium are the top 5 export countries.
Every day over 43 million flowers and 5 million plants are sold here. The most popular flower varieties are roses, tulips and chrysanthemums. The number of flower and plant species traded exceeds 30.000. Every year almost 1500 new products are added to this number!
Of the global flower and plant trade over 60% passes through the Dutch flower auctions.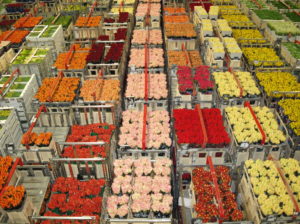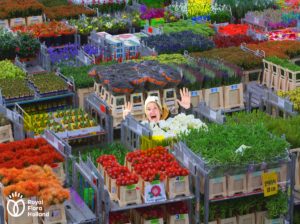 Although you will have to get up early, a visit to the Royal FloraHolland in Aalsmeer makes it more than worthwhile. Feel the tension in the auction rooms and watch the auction of dozens of tractors with flower trolleys swarm around. You'll be impressed by the many colours that float by.
After your visit you'll pedal on across the stunning flower fields in the bulb growing area during your Tulip Tour cycling holiday