It is a great idea to charter a sailing boatel as an accommodation for your group travel. Staying on a hotelship is fun! The barge is your hotel, your restaurant as well as your transport for your tour.
If you are planning a short or longer trip with Travels For You  we'll gladly provide you with lots of ideas for an unforgettable trip!
You may choose for a Ready-made Cycling & Sailing Tour or let us organize a Tailor-made Cruise designed specially for you.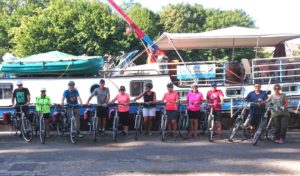 The best way to get to know the Netherlands is by Bike and Barge.
An extensive network of waterways, more than 5.000 kilometers, connects interesting sceneries, villages and cities.
You'll find 35.000 kilometers of cycle lanes ready to be explored by bike!
The combination of these two makes this delightful recipe for a most memorable Cycling & Sailing Group Holiday!
For example, enjoy the lovely landscapes and historical towns of the western part of the Netherlands on a guided 8-day tour.
Families love our Family Specials, which are fit for children and adults. They include some fun activities like experiencing living history or playing golf with a wooden shoe
For School Classes a cruise is an ideal way to get to know eachother better. The class travels from town to town making exiting excursions and visiting interesting museums. 
There are endless options for groups having a relaxing and interesting travel aboard a ship.
Contact us and ask for a tailor-made offer:
Travels For You
Phone: +31 (0)85 8880 880