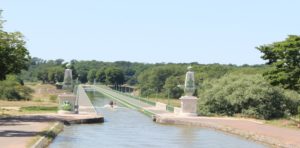 The Briare Aqueduct in France carries the Canal latéral à la Loire over the river Loire. Until 2003 it was the longest navigable aqueduct in the world.
The aqueduct replaced a river-level crossing from the canal to meet the Briare Canal that was hazardous in times of flood.
The aqueduct is built on 14 piers. These piers support a single steel beam in turn supporting a steel channel which contains more than 13,000 tonnes of water. It is 2.2 meters deep and 6 metres wide allowing boats with a 1.8m draught to cross. The width, including the towpaths, is 11.5 meters and its length is 662.7 meters.
The canal bridge was built by the Eiffel company (yes the same that built the Eiffel Tower!) and opened for navigation in 1896.
A walk along this waterway, 'decorated' with pilasters and 62 lanterns, offers unique views over the Loire and Briare.
The town of Briare is situated on the banks of the Loire River. The river is crossed here by the Canal de Briare and activities on and around the waterfronts are the main attractions in the town.
The tranquil Port de Plaisance leisure port invites for a pleasant stroll along the waterfront admiring the scenery and the boats, both hotel barges for cycling holidays as well as pleasure boats, are lining the waterside. The best view of the pleasure port is from the Henry IV bridge
The Loire Valley bike and boat holiday takes you to this fantastic masterpiece of industrial design! Don't miss it!