The most romantic city in Europe is without any doubt Bruges in Belgium. When entering the old town you directly feel like walking in the Middle Ages. Just wander around and endulge yourself in all the beauty Bruges has to offer.
Here are the highlights you should not miss, if you stay for a day in this place full of living history.
The big Market Square (Grote Markt) is the centre of the old town. Take your time to absorb the many impressions you'll have: the colourful facades that indeed look very picturesque, the many attractive cafés and the cobble stones. The Belfry Tower and the Historium Museum are also located here.
From the top of the Belfry Tower you'll have a stunning view all over this medieval town. Just overcome 360 stairs and Bruges is yours …
The Duvelorium Grand Beer Café in the Historium Museum is equipped with a balcony that offers a great panoramic view of the  complete square.
Feeling romantic? You should surely make a lovely walk in the attractive Minnewater (Lake of Love) Park! 
Also the St. Bonifacius Bridge, also known as the Lovers Bridge, is a 'must see'. Watch the beautiful facades of the typical Flemish houses around the bridge and the Church of our Lady nearby.
Square 'De Burg' is another highlight. It is surrounded by great buildings like the ancient Town Hall, the Burgse Vrije and the Basilica of the Holy Blood.
The Begijnhof (Beguinage) is located near the Minnewater Park. This relatively quiet area used to be a convent for beguines. The silence and contemplative atmosphere is certainly enjoyable.
The most visited spot of Bruges is called Rozenhoedkaai (Rosary Quay). In the past this was the place where rosaries were sold  It's the favorite place to take great pictures and selfies. At sunset or at night, the illuminated views on beautiful Flemish buildings and the Belfry Tower are unbelievable!
Choose for a Cruise on the Canals in Bruges or for a Horse and Carriage ride across the town centre and make your stay there perfect!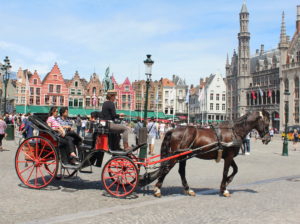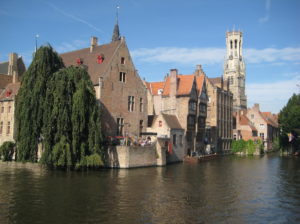 Last but not least: don't forget to pamper your inner man! Have a good taste of the well-known local beer 'Brugse Zot' and some fried patatoes with Belgian mayonnaise.
Take some delicious Belgian chocolates home with you to cherish the good memories!
A one-of-a-kind cycling holiday is our Amsterdam-Bruges Bike and Boat Tour.
We would like to welcome you aboard soon!