The island of Hvar is the pearl of the Dalmatian region in Croatia.
It has warm winters and nice summers and welcomes therefore many guests, who are looking for attractive nature, historic tradition and architecture. Hvar offers beautiful lavender fields, ancient olive trees and vineyards.
Our suggestion: enjoy not only the island of Hvar, but also several other beautiful islands and the Croatian towns Trogir and Split on our Bike and Boat Tour Southern Dalmatian Islands
Some not-to-miss Highlights on the great island of Hvar:
Hvar Town shows beautiful renaissance buildings, galleries, special shops and cafés.
St. Stephen's Square, situated between the cathedral and the harbour, is the central place to be. Numerous cafés and restaurants are spread out on the busy square where almost everyone seems to be.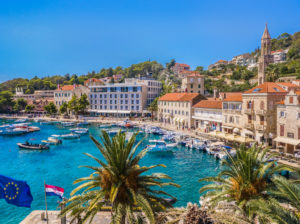 When visiting St. Stephen's Cathedral you'll be impressed by the many pieces of renaissance art of which the 'Madonna and Child' is a true highlight. It has been made in the 13th century by an unknown Venetian artist.
On a small headland near the port the walled renaissance Franciscan Monastery is located. Some great paintings are present here of which 'The Last Supper' (size 2 x 8 meters) is sure a highlight!
From Hvar Town's main square you may climb the stairway to the Venetian Spanjola Fortress from the 1500s. It is still in very good shape so worthwhile to stroll on the walls, the towers and in tunnels.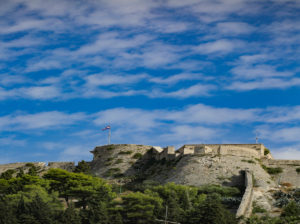 Outside Hvar town:
Cycling around the island enables you to see and experience lavender fields, coves and stilled beaches!
Dubovica is known as the best beach on the island. On the south coast, a pleasant bike ride of appr.10 km from Hvar town, Dubovica is a splendid cove with clear blue Adriatic waters. Some houses and restaurants surround the cove and a little climb leads to a nice view on hills with pines.
In 384 BC ancient Greeks from Paros founded Pharos, what is now modern-day Stari Grad. Today the Stari Grad Plain represents one of the best-preserved examples of ancient Greek agriculture throughout the Mediterranean. In 2008 it was added to the list of UNESCO World Heritage Sites.
Many Lavender Fields can be found between Hvar Town and Stari Grad e.g. around Brusje and Velo Grablje. The best time to see and smell lavender is in the months of July and August. In tourist shops you may purchase little bags filled with lavender flowers which enable you to enjoy your holiday again when you are at home.
Furthermore enjoy the Hvar restaurant specials like wine, olive oil and fish!
More detailed info: Hvar Tourist Board